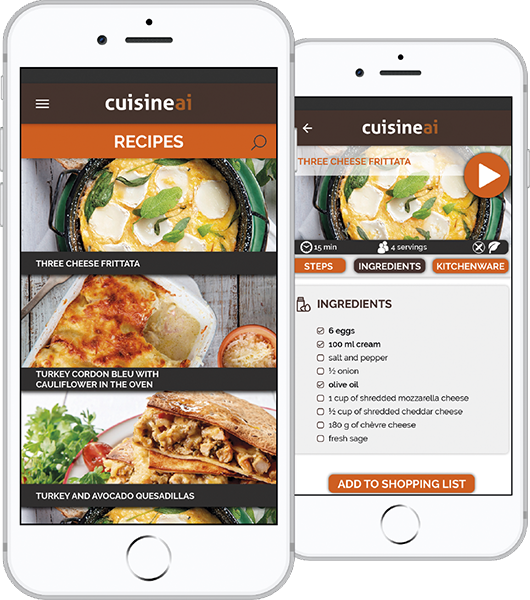 Your cooking book meets Artificial Intelligence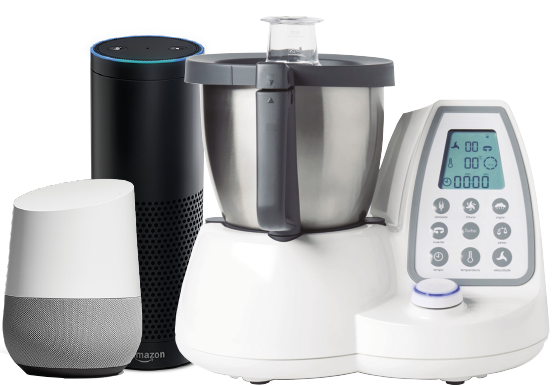 Works with
Android & iOS

Amazon Alexa*

Google Home*

Kitchen appliances
*Amazon Alexa is a trademark of Amazon Technologies, Inc.
*Google Home is a trademark of Google Inc.
Get ready for the revolution!
Your cooking experience will never be the same. Hop in the wagon! Artificial intelligence is here to stay and it can be helpful in several ways. One of these ways is how you manage and cook your recipes. You will no longer need to spend hours planning your weekly meals. Cuisine.AI does that for you with the help of voice assistants and kitchen appliances.
Cuisine.AI will help you cook your munchies, manage your groceries and plan your weekly meals according to your own preferences.
On a special diet? That's ok, Cuisine.AI will take that in mind.
Lactose intolerant? Check!
Always have to cook for 4 people? That's fine.
Join the revolution and save time for what really matters.

Voice and video recipes
You can prepare dishes step-by-step using our tailored just for you voice and video assistants, be it Android or iOS, Google Home or Amazon Alexa!
Meal suggestions
Ask for meal suggestions according to what you feel like having. Need a cake recipe? Got it, just wait two seconds. Feel like having a vegan meal tonight? Let's go for it!
Meal plans
Easily plan meals according to your preferences. These include restrictions such as gluten or lactose intolerances, the size of your family and your caloric intake needs.
Inventory management
We can keep record of your ingredients, suggesting recipes according to what is available at the moment and helping you to effortlessly manage your pantry.
General recipe suggestions
Suggestions according to what you have available at home
Step-by-step recipe instructions by text
Video instructions (via companion app)
Voice instructions (via Amazon Alexa/Google Home)
Personal profile
Inventory management
Shopping lists
Weekly meal planning
Intolerances control (Lactose, gluten, …)
Recipe categories (Vegetarian, vegan, pescitarian, …)
Cooking timer
Available for Android and iOS
Connectivity to Amazon Alexa and Google Home
Connectivity to kitchen appliances
Connectivity to mcommerce apps and ecommerce websites

Cuisine.AI is a platform unlike any other. An exciting new Xarevision investment, Cuisine.AI is an artificial intelligence-based system that has been carefully tailored using more than 10 years of firsthand experience in AI and online/mobile business ventures. Our team carefully brings what you need together in a revolutionary new cooking and meal planning system, by just using your mobile phone and Amazon Alexa/Google Home.
Move beyond what's traditional and aim for the future, always and every day. Make your cooking experience as fun and easy as you want with Cuisine.AI.